A nice pizza joint with great food and a large adult beverage selection! Get the meatballs! 
1956 Maybank Hwy, #B Charleston, SC 29412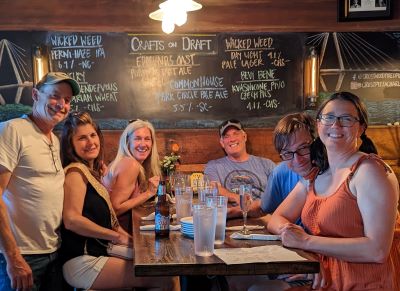 The Digs:
Cute little Italian vibe, wine bar type place. Not a lot of seating and I would anticipate it being quite busy for dinner. 
There are two, single room style bathrooms.
The Grub: 
We went for salads and got some meatballs and arancini to go with it. The BLT salad was good, but I was missing some flavor that I was hoping for. Looking back I think some salt and pepper might have really made it pop. 
The meatballs were amazing. When I return I'm going to get some pasta so I can eat those meatballs and that sauce as my meal. Such a lovely taste!
The Arancini was quite delicious as well…especially covered in marinara!
The Service:
Great service. Our server was super cool and lovely to chat with. She made sure the wine was flowing and everyone was happy!
The Scratch (Per Person):  
$16-$30
The Duds:
Casual…but you could dress up a bit if you wanted.
Take Note: 
This is in a small plaza with plenty of parking.