If you're looking for a hip, local hangout with a great selection of beers and some yummy bar food, this is a great place to check out!
175 Ray Kennedy Drive Locust, NC
The Digs:
This IS the local hangout. If I go here, I am guaranteed to run into at least one person I know. 
You order at the bar. And the bar is HUGE. The tables are scattered about inside and they have two outside patios. One with picnic tables, one with adirondack chairs. 
The restaurant is in Locust Town Center and has plenty of street parking but there is also a small parking lot. 
There are two, multi stall restrooms marked for Men and for Women. I can't vouch for the Men's room, but the Women's is a bit small and doesn't allow for 2 people to wait inside. You may have to wait outside if the wait gets long but even when the place is super busy, I don't ever see a long line. 
The only complaint I have about this place is their seating inside is terribly uncomfortable, but I do have one tip for the backless barstools.  Turn them sideways. It makes them a little more comfortable and won't bruise the sides of your legs (Yes, I learned this from experience).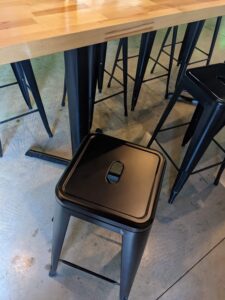 The Grub: 
They have been changing their menu up quite a bit lately as they're getting a feel for the local visitors. I've tried most of it and I'd recommend any of the Phillies. I ask for the Chicken Philly with no bread when I don't want a ton of carbs, but they also recently introduced a steamed veggie platter that you can top with any of their proteins!  
I highly recommend any of the dishes with their pickle brined chicken. My personal favorite is the flatbread. That chicken is so good! 
And, you can't go wrong with a tot bowl. Their tots are cooked the way a tot should be, nice and crispy golden brown.  If you just get tots alone, they send it out with this sauce I would compare to a Carolina gold (I'm actually not sure what they call it) and it is delish!  
They make their own beer here, but they also have a lot of other favorites, featuring several popular local beers as well. 
The Service:
When you arrive, go straight to the bar and flag down anyone working behind it. They'll pour you a beer and give you a number for your food. Food is delivered to your table (there are no seats at this bar). Because of this concept, service is usually pretty darn fast. All of the bartenders are super friendly and helpful if you need to taste test any of the beers as well. 
The Scratch (Per Person):  
$16-$30, especially if you're having a couple of drinks
The Duds:
Come as you are, and if it is a party night, dress for the theme! 
Take Note: 
Follow them on Facebook because they're always having fun events like karaoke, bands, dress-up parties, trivia, etc. Usually they are quite busy on the weekends but it doesn't ever seem to be a major problem with finding a seat as there is lots to go around and most people here are friendly enough to share big tables too!
See my review with pics on Google Maps!