We walked to a few of the "highly rated, popular" places in NoDa and they had long waits. Roy's was empty.  We were hungry.  We figured, why not?
3112 N Davidson St, Charlotte, NC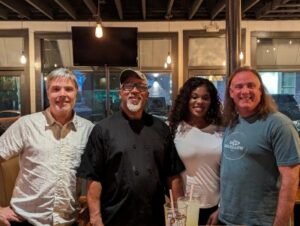 The Digs:
The inside of Roy's is nice with big windows looking out onto the street.  They do have a back patio area that could be fun, but it didn't appear like it was used very often. It was a little chilly the night we went, so perhaps it wasn't open due to that fact. It could be a fantastic area if they would spruce it up a bit though.


The Grub:
I tried the 1/2 rotisserie chicken with rice, beans, and plantains.  It was cooked nicely, had a lovely rub on it, and was overall, a delicious meal.  My only complaint was that I wanted a sauce, and they didn't have any.  They did bring us something, but it wasn't a good compliment to the dish.  I'd like to see them come up with a sauce that could be used to give the chicken that extra pop!
We had a Painkiller which was quite tropical and delicious.  I also tried the Margarita which I thought was a pretty good drink. They don't have a huge liquor/wine menu so I wouldn't expect anything over the top but the drinks I tried were very good. 
The Service:
The service was great.  Our server was super nice and attentive. They even brought the chef out to chat with us at one point.
I'd go back again and probably get the same food. Check it out. We were glad we did
The Scratch (Per Person):  
$15 +
The Duds
Casual