This speakeasy has an old-school charm with rich wood and unique decor.  I enjoyed exploring the extensive bourbon selection and had a killer Old-Fashioned.
57 College Street, Asheville, NC 28801
    
The Digs:
This is a bona fide speakeasy. You only know it's there by the small writing above the door with their name over it. Once you walk in, the appearance is very "old school" with rich dark wood and funky decor. The bathrooms are decent. There is a back patio, but it isn't that great.  You're going to enjoy sitting inside more for this one.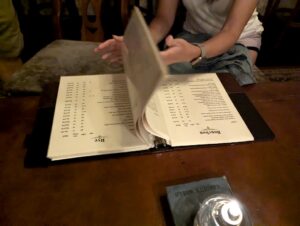 The Grub: 
They have a huge book that lists all of their Bourbon.  If there were any specific ones you wanted to try, they would probably have it.  This place makes a killer Old-Fashioned.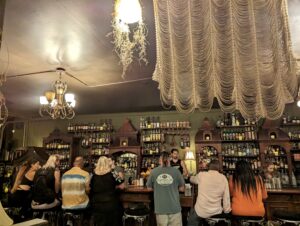 The Service:
The bartenders have always been nice when I've been here.
The Scratch (Per Person): 
$10-$20 per drink 
The Duds:
Casual