Diner vibe.  Lunch and Breakfast only.  The freshest food and the grits are to die for…
57 College Street, Asheville, NC 28801
The Digs:
Diner Vibe.  Very casual and comfortable.  With the raving reviews, and our visit being on a Saturday, I thought we might have to wait but we were seated right away.
The Grub: 
I had the Hash Bowl: peppers, onions, potatoes, sausage, tomatoes, cheddar cheese, some kind of tasty sauce, and two eggs. It was good, no doubt, but I was very jealous of my husband's plate which was called The Med Breakfast, basically your standard breakfast, but the taste was anything but standard. It was two eggs, three pieces of bacon, grits, and toast.  (You could have chosen sausage, a biscuit, and potatoes if you preferred).  The grits were probably the best grits I've ever eaten.  You've got to try the grits when you eat here! If I ever get to do it again, I would totally order The Med.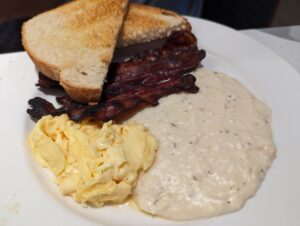 The Service: 
The service was good. Everybody serves you and helps out.
The Scratch (Per Person):  
$15-$18
The Duds:
This is a definite diner vibe so come as you are!